7 Ways Social Media and SEO Are Related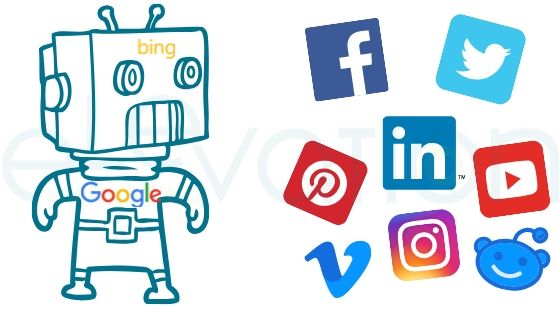 It's generally been easy in the marketing space to approach social media and SEO as wholly separate matters. Many folks in charge of marketing for small businesses, for instance, generally feel that social media profiles are less important for their businesses because they won't be posting often and are unlikely to develop a large social media presence.
However, social media and SEO are more related than they may seem. While it's true that having a massive following on social media may not help your page ranks (at least not directly; more on that in a moment), there are still several reasons for paying some attention to social media channels, even if your primary digital marketing focus is your business's SEO.
To that end, today's blog post is all about social media, SEO, and a handful of key ways in which these marketing arenas impact one another.
1. Social media helps promote content
Content is king these days when it comes to SEO – and social media can help things along. If your business is only posting to a brand website, chances are you're missing out on a good opportunity to put your brand and content in front of more people.
Even with a relatively small social media following, maintaining accounts for your small business and posting updates, along with blog content, can drive more traffic to your company's website than you'd likely get from organic search results and subscribers alone.
2. Social media profiles appear in search engine results pages
This one's easy to see. If you complete a search for just about any company or brand, chances are you'll turn up their social profiles along with their website. This is excellent news for small and mid-sized businesses!
Social channels tend to feel more personal than a company website. Simply having these social channels for people to find allows you to maintain a businesslike tone on your website, where people are more likely to be looking for your services. This gives you the opportunity to maintain a more personal brand voice on social media, where people can grow more comfortable and familiar with your company.
3. Engagement and likes don't matter…well, sort of
Certain details about the relationship between social media and SEO are still fuzzy, when it comes to what Google's algorithm considers most important. In 2010 both Google and Bing admitted their bots used social signals as a ranking factor but all that changed in 2014. In 2019, Google will not admit that its crawlers use social signals as a ranking factor, while Bing is open about it but more on that later. While this may seem like an argument against social media being related to SEO, it's actually an important detail that supports two notions.
1.) Having social media profiles with a small following won't hurt you.
2.) Not being able to devote the time and money it would take to build a massive social presence doesn't really matter.
3.) Quality not quantity of posts matter. Posting regularly is great, but posting quality content for your audience is even more important.
In essence, you don't have to make a huge investment into social media to see benefits in terms of SEO.
4. Shared links are always valuable
No one seems entirely sure whether, or how much, social links factor into Google's search rankings. In fact, Google has even flip-flopped on the issue in the past. What is clear, though, is that getting shares is always a good thing. Whether the links are building up your page rankings isn't terribly important so long as they're being shared and driving traffic to your site.
5. Social media helps increase brand awareness
There are few things people trust more than referrals from friends and family. So, if a customer (or any follower) shares your content on their own social media profile, your content is being put in front of new audiences. Not to mention the added benefit of trust. As their friends and followers see your content, they will be more likely to trust your organization as a thought leader.
And even if it's a relative stranger seeing the shared content, visibility still counts for something. With visibility and brand awareness comes curiosity – and ultimately, branded searches. Searches which will increase site traffic and boost page rankings immensely.
6. Social media channels are search platforms
If you ask anyone to name a few search engines, chances are they'll stall out after Google, Bing, and Yahoo. What many forget is, social media channels are also search platforms in and of themselves.
In fact, when people hear about a brand for the first time, they often take to social media to find out more. Whether it's by checking out the brand's social channels or by seeing what other folks have to say about the brand, all of this can be done via the built-in search functions on Twitter, Facebook, Instagram, and everywhere else.
When you have social profiles on the most influential social channels, they provide an avenue for influencing how your brand is represented in social search results.
7. Now and later: Bing cares, and Google might
Bing may not be as synonymous with search rankings as Google, but it still has 6 billion searches per month (a fraction of Google's 50 billion). Bing has always been very clear about considering social signals when it comes to page rankings.
Additionally, we can't say for sure that Google will never tweak its algorithm to factor in social media presence. That in itself makes social media worth spending some time on, especially considering all the clear SEO benefits that already exist.
Ready to Discover How Social Media and SEO Can Work Together?
These are just a handful of the many ways your social media program can have a direct impact on your search rankings. At Elevation Marketing, we work with our clients to design and execute cohesive digital strategies that drive results. If you're ready to talk, we're ready to listen! Contact us today to discover how we can help transform your digital strategy into a lead generation tool that truly drives results.
Find the article helpful? Share on social!